Login into your Avis Account
Sign In to your Avis Account
Northern Gateway Toll Road
For motorists travelling between Auckland and Northland the 7.5km Northern Gateway Toll Road offers the choice of a more direct and safer route when travelling between Orewa and Puhoi on State Highway 1 north of Auckland. With two lanes in each direction, and a time saving of up to 10 minutes during off-peak periods, the Toll Road provides a safe alternative to the existing free highways.
If time is not a factor, tourists may like to take the more scenic route that follows the attractive coastline between the popular holiday spots of Orewa and Waiwera on State Highway 17, or the West Coast road from Helensville to Wellsford on State Highway 16.
The Northern Gateway Toll Road is New Zealand's first fully electronic toll road where motorists don't stop to pay the toll on the road. The toll road uses the latest electronic free-flow tolling technology and as your vehicle passes under the toll point, cameras capture an image of the registration plate and assign the toll. There are no toll booths on the road.
All motorists using the Northern Gateway Toll Road are required to pay a fee to use the road. Users are tracked via an electronic tolling system and the charge is NZ$2.20 per car per toll road usage ($2.20 each way).
TOLL ROAD PAYMENT OPTIONS
ONLINE - Using the Toll Road website www.tollroad.govt.nz, customers can use their credit
card to pay the toll. There is no NZTA administration fee applied to online payments.
CASH - Cash payments can be made at the toll payment cash points before entering the
Toll Road at either end (the green dots on the map). A NZTA administration fee applies to all cash payments.
TELEPHONE - Toll Road Contact Centre on 0800 40 20 20 to make payment. A NZTA
administration fee applies to all phone payments.
PLEASE NOTE: Avis is not responsible for collecting or paying Toll Road fees and charges.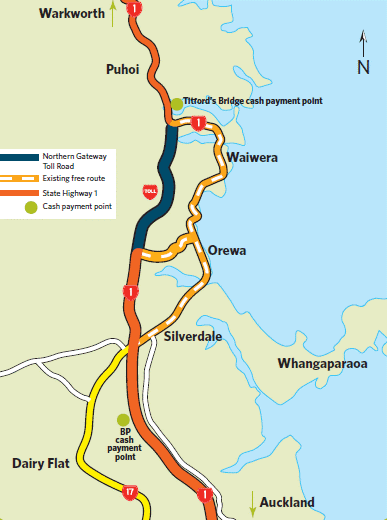 ADDITIONAL INFORMATION
Any customers that use the Toll Road without making a cash payment at the time of use, have a maximum of 5 days in which to make full payment of the toll charges (see payment options above).
If a customer does not make full payment, the New Zealand Transport Authority (NZTA) will advise Avis, informing us of the penalty. Avis will then send a statutory declaration back to the NZTA advising them of the drivers details and will apply an administration fee to the rental agreement. NZTA will also charge an administration fee for any outstanding charges.
For more information about the Northern Gateway Toll Road, please visit: www.tollroad.govt.nz